Maryland Association of Youth Service Bureaus
Maryland's 19 Youth Service Bureaus provide effective juvenile delinquency diversion treatment and family disruption services aimed at developing competent youth who can become responsible and productive members of society.  The Bureaus successfully, and uniquely, provide family-focused counseling services in their respective communities and have done so since the early 1970's.  This existing network of Youth Service Bureaus in the State of Maryland has consistently provided long-term sustainable gains for youth and families receiving services and match Governor Hogan's vision for Maryland's children, youth, and families, where children are prevented from entering the Juvenile Justice System.

Youth Service Bureaus work with youth and their families in helping to build effective skills to change behaviors.  Youth Service Bureaus' success can be attributed to their prevention, community-based, family focused approach to the development of a youth and his/her family's protective factors. Bureaus dedication to effective service with care and integrity is recognized by families, schools, and others throughout the communities we serve.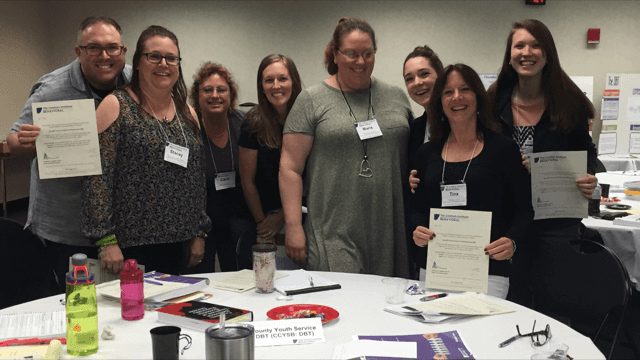 Dialectical Behavior Therapy (DBT) and Carroll County Youth Service Bureau
Carroll County Youth Service Bureau (CCYSB) is pleased to announce that eight (8) licensed therapists completed the sixty (60) hours of training in Dialectical Behavior Therapy (DBT) (basic, intermediate, and skills-group) in 2017. This cohort is currently working toward full certification which is awarded by Behavioral Tech: The Marsha Linehan Training Institute. DBT is a cognitive behavioral treatment that is now recognized as a research-based psychological treatment for a wide range of issues: substance dependence, depression, post-traumatic stress disorder (PTSD), borderline personality disorder, suicidal behavior, and eating disorders.
2018 Cornerstone Award Recipients
The Maryland Association of Youth Service Bureaus awarded several distinguished legislators its' prestigious Cornerstone Award for their longstanding dedication to the youth and families of Maryland and for their consistent support of the work of Youth Service Bureaus. Youth Services Bureaus provide successful prevention/early intervention services to children and families throughout Maryland. Each legislator recognized has worked diligently to ensure that funding for these important, successful community-based counseling programs remain available for families and children.